06 February 2010
Anticipation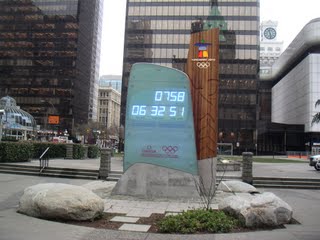 How do you measure anticipation? For the approaching Vancouver Olympic Games, a thermometer may not be the appropriate tool, as it would remain firmly below zero even with the opening ceremony a mere six days away. Clearly, things must be heating up by now - or so we are made to believe. But realistically, here in Montréal, some 3'700km from the Olympic Flame, people don't seem to have warmed much to the event. The section at the Bay department store where the official Olympic clothing line is sold was not exactly bustling with activity when I checked it out a few days ago, and media coverage so far was rather muted - with a short outburst of excitement when Canada's roster for the hockey tournament was announced.

Apart from that, the

francophones

seem to care, if at all, about the degree of recognition and application of the official language of the Olympic Movement,

le français

. There is a bigwig, going by the grandiose title of "

Grand Témoin de la Francophonie aux Jeux Olympiques d'hiver de Vancouver

", who is supposed to enforce the proper use of language during the event. He even got to meet with Canada's Governor General. Of course, the role is too politically sensitive to be assigned to just any fierce separatist Québecois, who would probably raise many a ruckus. So instead, a grandstanding but ultimately harmless retired politician from a certain neutral country was picked. (Apparently, they have run out of jobs at the UN...)

In ROC (Rest Of Canada, should you wonder) however, exicitement about the upcoming sports fest seems to be mounting, the farther west, the more. In Vancouver, they use a countdown clock, which obviously jives with the Swiss mindset as well. When I took a picture of it on my visit in early 2008, little did I know that I would live in the host country by the time the games open. And when I moved to this country, little did I know that I'd spend a grand total of three days in Canada while the games are on. The rest of the time will see me in places where they know winter sports from hearsay at best.

And yet I am merry - in anticipation of red rose service, afternoon tea, dim sum and Cathay Delight. Or, as Olympians would say: Being there is everything.

Labels: Canada, language, sport

Subscribe to Posts [Atom]