10 July 2009
Settling in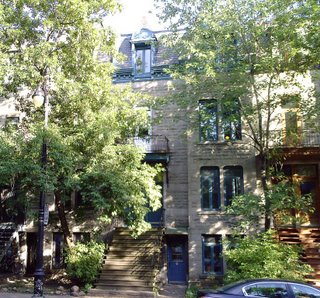 It's nearly a week now since I have moved into my new appartment, and it gradually starts feeling a bit like home. Every night this week, I have made some progress, from additional cleaning to emptying boxes, wiring things up or buying little accessories. Yes, it's still a long way to go and the shopping list for my next visit to Ikea is already long. But at least the unsightly dirt has gone.

So we are getting there. Today, on a sunny and warm Friday evening, I walked home from work (first time since primary school that I am actually able to do that), stopped for a few groceries at a posh épicerie on the way, tuned into the radio's live coverage of the Montreal Jazz Festival , leaned back on my lounge chair and, yes, opened a bottle of beer. (I still have neither wine nor the corresponding glasses, so there). And trust me, it felt good!

I'll still have errands to run this weekend, but I am confident that it will leave me some time to take in a bit of the rich cultural life the city has to offer at this time of the year, with festivals and outdoor activites in full swing. I'd say

the best is yet to come

....

07 July 2009
Dégoûtant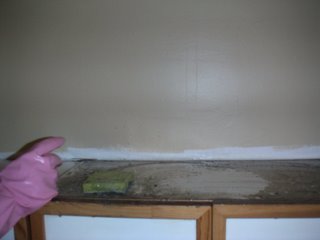 The good
news fi
rst: This is the first post I am typing in my new flat, where I sleep well in my own bed, and the internet connection obviously works.

Getting this far was not so easy however, and the last week was very intensive indeed. Some of the effort was expected, such as Monday's treck to Ikea, Zellers and Canadian Tire in order to buy half a household worth of furniture and accessories in one and the same day. I had also prepared myself for Saturday's mad assembly rush, and had cajoled four very dear friends into spending the day helping me. They did, and thanks to it I now own furniture instead of cardboard boxes!

What I did not anticipate though, and was both disgusted and upset about, was the appalling dirtiness in which the apartment was handed over to me. Yes, the landlord did repaint every wall, but that was all he did. The floors being covered in paint and plaster stains were a minor complaint compared to the dark-grey windows and screens and the stains in the bathroom.

Worst of all however was the kitchen. When I had visited the flat, I saw that it was both old and dirty, but I expected it to be cleaned to reasonable (if not Swiss) standards before handover. Unfortunately, nothing at all happened, which meant that I encountered a fridge with a grease-vegetable-goo crust at its bottom, closets and cupboards covered in solid layers of grease and dust, and appliances filled with someone else's hair & dirt. It was really, really icky!
The landlord, who otherwise seems a nice enough guy, just shrugged and said that here in Quebec, that's just how it is. (Consultations with local friends revealed that this is
not
true, and I'll take the issue up).
In the end, I spent a full two days cleaning and sanitizing the kitchen, with a professional cleaner recommended by my new neighbor adding another full day in between. It was not pleasant at all.
Still, to end this post on a bright note, now that it's done I take great joy in gradually unpacking and arranging my stuff, and really building myself a new home. Soon, I'll be able to share "after" pictures!

Subscribe to Posts [Atom]