17 July 2009
Freddie Jr.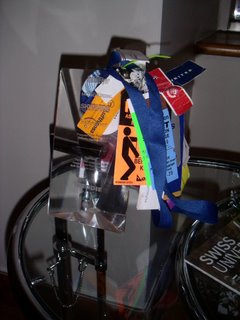 Before I am even able to offer decent guest quarters, not to mention a guestbook to sign for visitors to my new apartment, I was already honored by the arrival of a distinguished, and very well travelled gentleman this week. Fortunately, despite his celebrity and habit of being pampered, he is really not demanding at all, and has happily accepted his vantage point in the corner of my living room.

The visitor in question is Freddie Jr. , the challenge cup and icon of Flyertalk , a global online community of frequent flyers, of which I am a member for almost 10 years now. Freddie Jr. is named after the Freddie Awards awarded annually to the world's best frequent flyer programs, and has been the treasured possession of the Flyertalk community for many years now. The little statue is supposed to be travelling as much as possible, and is therefore being handed from one Flyertalk member to the next in a never-ending relay, having already logged more than 1.2 million km. Freddie Jr. makes frequent appearances at gatherings called "Do", where Flyertalkers mix and mingle.

I have first met Freddie Jr. at Chicago's Wrigley Field baseball stadium in 2002, and carried it to New York from there as part of the relay. We then crossed paths again on numerous occasions, and in January 2007 Freddie Jr. spent some time with me in Switzerland, visiting Ticino, the CORD Estate in Winterthur and even one of his "siblings", a Freddie Award given to the now defunct Qualiflyer program. Freddie also made an appearance at the Zurich Yodeldee-Do, which I co-hosted.

The fact that Freddie Jr. is now in Montreal is reassuring - it's a symbol for the fact that even here, the friendship and camaraderie of Flyertalk will stay with me. In fact, prior to the Austrian Flyertalker who handed Freddie Jr. over to me this week, another three good friends that I met through this network have already visited me last month. And on Sunday, I'll go out to brunch with yet another one - and likely send Freddie Jr. on to his next destination!
12 July 2009
Jean-Drapeau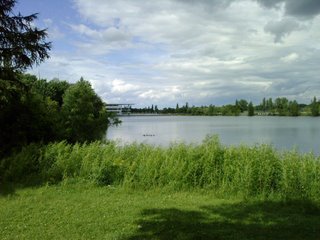 No, this post will not be about the politician. But on this pleasant Sunday, I was in desperate need of getting away from it all. In the morning, I had gotten up at some ungoodly hour, expecting my

domestic helper

to join me at 9am for the hopefully last round of cleaning somebody else's dirt. Of course, she called me 15min before she was supposed to be here, and told me that she couldn't make it. So I rolled up my sleeves and gave it another go on my own. Four hours later, I knew that when properly maintained, skylights actually do allow you to see the sky. ;-)

Given the blue skies, I definitely needed to get out of my - now reasonably clean - four walls. I decided to take a walk along the Lachine Canal, and across the pedestrian bridge crossing the mighty St. Lawrence River to the two islands in its middle, Ile Notre Dame and Ile Ste Hélène. These two islands, largely built with the earth dug out for the metro network, hosted the '67 World Fair and are today a massive park with versatile facilities. They reach from a nice, clean, heated 50m outdoor pool, which I have already used twice, to stages, freshwater beaches, and various sporting grounds. Uniquely, you can cycle or skate on the Circuit Gilles Villeneuve, Montréal's Formula One racetrack.

Parc Jean-Drapeau also has lush landscapes, where squirrels behave as if humans would routinely yield to them (which indeed, they do!), and I found it to be a very enjoyable gettaway. And just a quick metro ride later, I was back in the heart of town, where people were gathering for the closing night of the Jazz Festival, with a free show by Ben Harper. I preferred two scoops of Ben & Jerry's finest, before heading home - and into a new week.


Subscribe to Posts [Atom]