29 October 2009
Trick and treat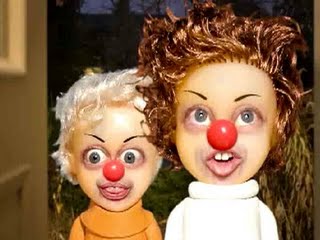 When the bags of bit-sized Coffee Crisp started appearing in the grocery store, I did not think much of it, and in fact bought a few to bring to friends in Switzerland (whom I am converting to the taste bit by bit). When the vendors at Atwater market loaded their stalls with bright, ripe pumpkins, it was mainly soup that came to my mind. When a local friend asked me, last week, if I had any idea of where she could get a nun's costume, I got a bit suspicious (but then again, the Quebecois have a somewhat neurotic relationship with the church so I wasn't too surprised). Only when today, out of nowhere, the little lounge area in our office suddenly looked like a haunted, spider net-clad and pumpkin-adorned mansion, it finally dawned upon me: Halloween is nigh!
Unlike in Switzerland, where I have usually just complained about the imported and commercial nature of this "custom" and duly ignored it in consequence, it would have been very, very difficult to maintain the same argument here. This is, after all, North America. How would I avoid the silly costume parties, and feeding frantic children with individually wrapped (the flu, the flu) candy?
I had to pull a little trick, which at the same time will be a treat - for yours truly, that is. And so today, in a record-breaking 60 minutes, I went from my office desk via train, bus, check-in, security and US immigration to this desk at the AC transborder lounge. This was so unexpectedly fast that I now have time to down a gin & tonic, kick back and start spreading the news... my Halloween weekend will be in the Big Apple!
Labels: event, family, travel, USA

Subscribe to Posts [Atom]