14 January 2010
Freezing point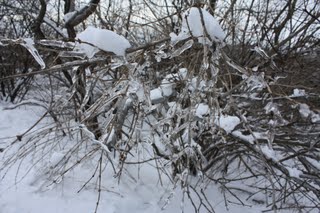 So here we are in the middle of January, supposedly the coldest month of the year. According to statistics, Montreal's average daily temperature in January is -8.9C, with an average daily minimum of -12.4C. In a typical January, temperatures stay below freezing on 23.2 days and a nearly half a meter of snow falls.

This is well documented, so I was prepared for the worst. After a record-breakingly mild November and a tolerable December, I returned to Canada with woolen turtlenecks and down-filled jackets, then snagged gloves and a tuque on sale. Last Sunday, grey and windy, offered the opportunity to put my gear to the test, and I went for a walk on Mt. Royal. Getting ready felt a bit like Neil Armstrong preparing to step outside his lunar lander, but much like in his case, the equipment did not fail me. As I made my way across the snowy landscape, I noticed how much the park had changed since my last visit in fall: It now felt like a winter resort, complete with cross-country ski tracks, ice rinks, tobogganing hills and snowshoeing trails, all heavily used.

Clearly, Canadians are not easily deterred by icy conditions, and I even saw several joggers inhaling the cold air while doing their laps (today, a co-worker proudly told me about his nightly 5km run, which he only skips when it drops below -20C). As for my equipment, it performed admirably, but a slight oversight on my part meant that an express order of woolen long unterwear was dispatched the same night. And when my mobile phone rang, its battery ran empty in the same short while it took my fingers to nearly freeze stiff!

While the cold is everything I expected it to be, what really takes me by surprise are the frequent and unpredictable hot spills. Or, as the radio host puts it, "today temperatures rise to a balmy 2 below". From my bedroom window, of course, this still looks and feels exactly the same as the -15C the night before, and so I occasionally find myself stepping outside, well, overdressed!


Subscribe to Posts [Atom]