28 February 2010
Skyline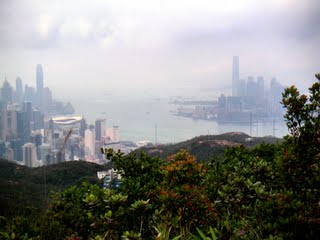 It has got to be one of the most beautiful urban vistas in the world. Ever since I first visited Hong Kong, I am captivated by the vistas of Victoria Harbour, between Hong Kong Island and the tip of the Kowloon peninsula. The contrast is between the man-made architectural wonders, one skyscaper more extravagant than the other, and nature's stunning setting of lush green hills and a sliver of South China sea. Add to this the frequently changing weather, from clear blue to low-passing clouds or sudden downpours, and you have a very versatile combination.

This weekend, which I passed yet again in the former British colony, saw me admire this skyline from multiple angles. For my first night, I redeemed a free night award at the Grand Hyatt, attached to the HK Convention & Exhibition Centre, and was offered a room with a harbor view over to the Kowloon side. The next morning, I relocated to familiar Starwood ground in form of the Sheraton, directly opposite the Hyatt in Tsim Sha Tsui. I would be hard pressed to say which view I liked better, but I don't think I will ever tire of gazing at the nighttime lightshow before going to bed, and opening the curtains in the morning to see the Star Ferry go by.

Probably the most unusual, and definitely the most breathtaking view of the harbor presented itself on Saturday, as I climbed the last steps of the Wilson Trail's second stage, arriving on a summit high above Quarry Bay. Ever since a Swiss friend introduced me to the idea, I have started taking hikes in Hong Kong's hinterland on every visit. Unbeknownst to most tourists, a wide network of hiking trails criss-crosses the hilly countryside of the city-state, offering a surprising and all together different perspective on the destination. Having previously hiked on Lamma and Lantau islands, as well as in the New Territories, it was definitely the turn of the

pièce de résistance

, Hong Kong island itself. I set out on the south side near Stanley, and made my way steep uphill in the humid but foggy air, across multiple hills and past shrines, old British bunkers and grim-looking joggers. Four hours and 2.9 liters of drinking water later, I reached the panoramic viewpoint during a moment of almost clear vision. Solemn, serene and imposing, it was well worth all the effort, and gave me the excuse I needed to tuck into afternoon tea at another posh hotel in the late afternoon.

Writing these lines moments before boarding my flight back to Canada, I am happy to say that hiking in Hong Kong provides lasting memories. For me, they are not just in the form of pictures, but also in sore legs and blisters...


Subscribe to Posts [Atom]