12 July 2009
Jean-Drapeau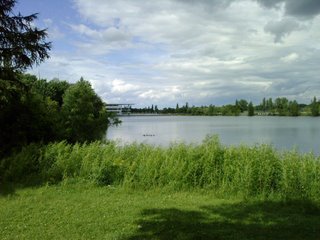 No, this post will not be about the politician. But on this pleasant Sunday, I was in desperate need of getting away from it all. In the morning, I had gotten up at some ungoodly hour, expecting my

domestic helper

to join me at 9am for the hopefully last round of cleaning somebody else's dirt. Of course, she called me 15min before she was supposed to be here, and told me that she couldn't make it. So I rolled up my sleeves and gave it another go on my own. Four hours later, I knew that when properly maintained, skylights actually do allow you to see the sky. ;-)

Given the blue skies, I definitely needed to get out of my - now reasonably clean - four walls. I decided to take a walk along the Lachine Canal, and across the pedestrian bridge crossing the mighty St. Lawrence River to the two islands in its middle, Ile Notre Dame and Ile Ste Hélène. These two islands, largely built with the earth dug out for the metro network, hosted the '67 World Fair and are today a massive park with versatile facilities. They reach from a nice, clean, heated 50m outdoor pool, which I have already used twice, to stages, freshwater beaches, and various sporting grounds. Uniquely, you can cycle or skate on the Circuit Gilles Villeneuve, Montréal's Formula One racetrack.

Parc Jean-Drapeau also has lush landscapes, where squirrels behave as if humans would routinely yield to them (which indeed, they do!), and I found it to be a very enjoyable gettaway. And just a quick metro ride later, I was back in the heart of town, where people were gathering for the closing night of the Jazz Festival, with a free show by Ben Harper. I preferred two scoops of Ben & Jerry's finest, before heading home - and into a new week.


Subscribe to Posts [Atom]