10 July 2009
Settling in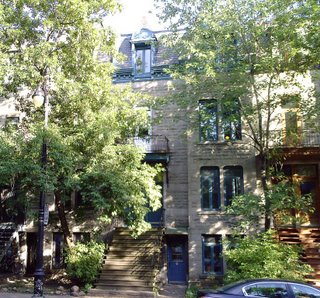 It's nearly a week now since I have moved into my new appartment, and it gradually starts feeling a bit like home. Every night this week, I have made some progress, from additional cleaning to emptying boxes, wiring things up or buying little accessories. Yes, it's still a long way to go and the shopping list for my next visit to Ikea is already long. But at least the unsightly dirt has gone.

So we are getting there. Today, on a sunny and warm Friday evening, I walked home from work (first time since primary school that I am actually able to do that), stopped for a few groceries at a posh épicerie on the way, tuned into the radio's live coverage of the Montreal Jazz Festival , leaned back on my lounge chair and, yes, opened a bottle of beer. (I still have neither wine nor the corresponding glasses, so there). And trust me, it felt good!

I'll still have errands to run this weekend, but I am confident that it will leave me some time to take in a bit of the rich cultural life the city has to offer at this time of the year, with festivals and outdoor activites in full swing. I'd say

the best is yet to come

....


Subscribe to Posts [Atom]