28 December 2009
Warm feelings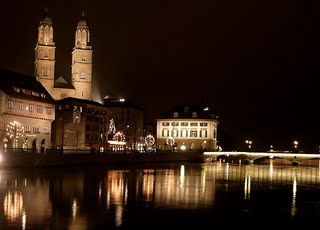 Burp! It seems like the time since my last post has been spent almost exclusively with eating. Christmas dinners with family,

Bratwurst & Rösti

with pals, coffee and cake with friends and so on - there is no doubt that the past few days were very nourishing for both my body and soul. And tonight, I finally had the pleasure of welcoming my repeat host to Montréal and her boyfriend to our place in Switzerland, and to share an authentic Swiss Fondue with them. It was great to see how my lives on both sides of the Atlantic can overlap like this.

But the warm feelings were not just limited to friendship and hot cheese

caquelons

. To my embarassment, Switzerland presents itself exceptionally warm and balmy for this time of the year, and unlike most Montréal residents I will have to admit not having had a white Chirstmas. More punishing even, my Québecoise friend commented today that it was even warmer than in London, where she now lives. Combine this with the typical

Hochnebel

, and you could be excused to think that Zurich was a rather dull place.

Yet as I walked the streets of Zurich yesterday at dusk, crossing the river Limmat and looking over Lake Zurich from Bürkliplatz, the grey cloulds broke close to the horizon to offer a sliver of a view of the alps, all snow-covered and in soft afternoon sunlight, and for just a few minutes as I was strolling up posh Bahnhofstrasse, snowflakes fell. I stopped for an espresso (beautifully served with a glass of water, a little jug of milk and a tiny brownie cube, at 3.5 times the price of a Tim Horton's Double Double), used a perfectly designed and spotlessly clean restroom before getting on an easy-entry tram with interactive displays showing next stations and connections. It was only when the tram stopped at a station and the driver made an announcement that we would be "stopping here for approximately one minute to be aligned to the timetable" that I suddenly looked up and realized that the setting was just too perfect. I had never quite appreciated this before, but at that moment it occured to me that Zurich was like a videoclip - polished into surreality!

Not that I mind at all. In fact I am grateful to have this opportunity to come and "experience" my former home in such an intensive way. And yet I am looking forward to spending a few days up in the alps very soon, where hopefully the only warmth will come from the masses of skiers squeezing into gondolas during the day, and friends sitting around the chalet's fireplace at night. If I'm lucky, I'll get to enjoy alpine bliss until next year!

Labels: food, Switzerland, travel

Subscribe to Posts [Atom]