16 October 2009
Leaf peepers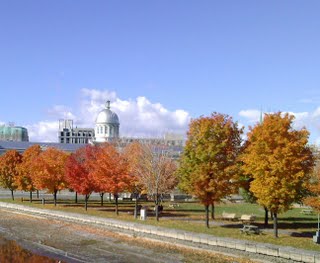 If there is one area in which Canada earns unconditional praise, it would be in the consistent and appealing use of a standardized government identity. From coast to coast and at touchpoints as diverse as work permits and national park maps, a uniform appearance of the maple leaf makes it instantly recognizable.

And this time of the year, country branding is put to the extreme: Millions and millions of maple leaves, in a wonderful range of colors from green to yellow, orange and red grace the country, gently swaying in the autumn wind. No wonder then that this spectacle of natural beauty attracts leaf peepers from near and far - as far as Switzerland in fact, from where two friends paid me a visit last weekend. After a rainy and shockingly cold start, Montréal had mercy and presented itself from its most beautiful side as we took in the city's sights and "climbed" Mt. Royal for its magnificient views. Monday's Canadian Thanksgiving holiday, celebrated a month before the American version due to the earlier harvest up north, gave me an extra day off to spend with my guests, and to be thankful for all this country has given me so far. (After dropping off my friends at the airport, I then drove to Wal-Mart. Doh!)

While I gradually become used to the notion of showing people around this new home town of mine, I make myself no illusions about knowing as much as the locals do. Which I why I was extra grateful to meet my friends' other Swiss contact in Montréal, who has lived in the city with her family for several years already. Gracious and helpful, she quickly decked me out with her restaurant recommendations for the city, as well as the addresses of butchers and creameries favored by the Swiss expat community. Even more appreciated though, in anticipation of the inevitably approaching cold season, was an invitation for the three of us to join our host for an after-hours thermal session at her workplace. Whoever said that friendships only warm your soul?


Subscribe to Posts [Atom]