09 September 2009
Rentrée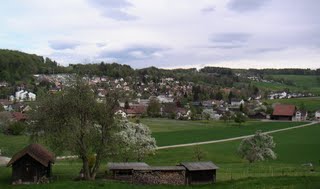 So here I am again, 13'181 miles (ah, sorry, 21'213km in metric Canada) and many wonderful memories later. Although too short to be really relaxing, my vacation back in Switzerland was very enjoyable and refreshing. It was absolutely wonderful to see so many friends and family members again (including a recently born addition to our family - we are still trying to determine the actual degree of relatedness!) and to indulge in some Swiss culinary highlights. Most of all though, I enjoyed to just belong.

Back at the office today, I had a conversation with a coworker who had spent several years living in Germany, and he too experienced what for me was a novel aspect of live abroad: The awkward feeling of returning to your native country, which used to be the end of all trips, for a limited time "vacation" only. Indeed, the knowledge that my time in Switzerland was so limited seemed to intensify my experiences there a lot, and I'll definitely need some more time to get used to thinking of Zurich as a "destination". In fact, when (once again) I learned that my bag had not made it to Zurich at the same time I did, I initially just shrugged and thought to accept next day delivery. But after a second I came to realize that this was no longer my home, and I was consequently in need of an overnight kit from the airline! (As an aside, the nice canvas pouch Swiss provided makes for a perfect and stylish laptop bag now.)

Going back to Montréal was probably the most awkward moment of all: Never before had I boarded a flight from "home" to "home". While sad to leave Switzerland, I was also looking forward to returning to the life I have established for myself in Canada. With perfect blue skies, leaves quickly turning colorful and social life back at full throttle as universities reopen, Montréal seems to exploit these last few warm weeks before the cold rolls in. Time to go countryside then - a c

halet

in the

Cantons de l'Est

awaits me this weekend!


Subscribe to Posts [Atom]