17 August 2009
Tropical nights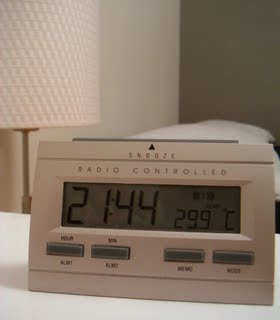 No, this is not a complaint. Although I must admit that over the past week of sunshine and blue skies, the temperature in my flat (top floor, big skylights, no A/C) has not gone far below the 30C mark. Not at night either, that is - making sleeping a somewhat sweaty affair. Meterologists call any night with temperatures remaining above 20C tropical - we qualify rather easily.

In fact, a few weeks of such heat, along with the trademark humidity, are not unusual for Montréal, except that they normally happen in July. I am quite content that they were delayed this year, as it is certainly much more pleasant to spend them sitting out on the balcony listening to music, instead of assembling furniture and cleaning!

And it is not just me who was very happy. The audience and players at last week's tennis tournament, taking place in an open-air stadium, were equally pleased with the perfect conditions. When I bought us tickets for Saturday's semi-finals many weeks ago, it seemed like a gamble not just weatherwise, but also because I had never before seen a tennis game in its entirety, much less attended a match live. But thanks to a little brush-up from my three tennis

afficionado

friends, and two players battling for every point, this tropical night turned out extremely pleasant. In fact, it left me with just one gripe: I feel I have fallen victim to misleading advertising. They call this tournament "Rogers Cup", and yet they rather uncerimoniously expedited our

Roger National

home after the quarterfinals. Scandal!


Subscribe to Posts [Atom]