28 July 2009
Surprise!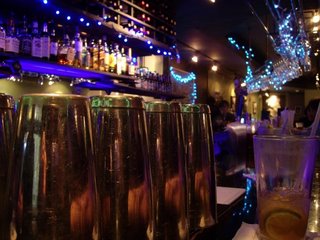 We Swiss are famous for keeping secrets, and the past weekend offered an opportunity for me to put that quality to a test. My good friends Mark and Ric came up to Montreal from their home in Vermont on Saturday, to meet two other friends of theirs from Texas for the weekend. They all came round to my place (almost finished, by the way) for

apéro

, and we then went out to dinner together. Mark was apologetic for not being able to meet again on Sunday, but unfortunately the four of them headed back across the border early on in the day.

Of course, everybody but Mark knew that there was still going to be another encounter very soon: Soon after they left, I got in a rental car, fired up my brand new GPS and started heading south. Some two hours later, I walked into Mark's favorite restaurant in downtown Burlington, and found it already brimming with a very international crowd: People from near and far had made the journey, all ready for this surprise birthday bash. And everybody had kept the secret - which meant that Mark was really overwhelmed when he arrived and eventually noticed that the bar was full of his best friends! It was a wonderful night out, and a welcome opportunity for me to see some joint friends again, and to get to know many people Mark had spoken of in the past.

My only regret came the next morning, when a sugary-sweet girl at the hotel called my room for my requested wake-up call, at a time that felt waaaaaay to early. The reason for this early start into the day: One more, hopefully final visit to IKEA while I had the rental car. There now remains a single, albeit big cardbord box in my living room. Better turn that into a sofa bed real soon!





Subscribe to Posts [Atom]