01 July 2009
Canada Day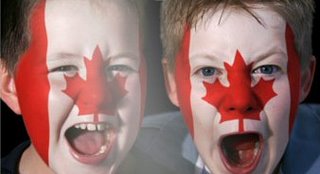 On July 1st, the Great White North traditionally celebrates Canada Day from coast to coast. From coast to coast? Not quite, for one small province of indomitable Québecois still holds out against the Federalist invaders....


Of course, July 1st is a national holiday and therefore also a day off here in Québec, where the day is used by everyone and their dog to move. Move out, move in, move together, move apart... you name it, it happens today. Which obviously means no vans / U-Hauls / boxes / empty parking spots at Ikea can be found at all. This ingenious concentration of action obviously sees me in the middle of it, as today is the day the lease for my new home starts. But more on this in the next few posts.
For now, I'd like to share a few thoughts on the values that this country, True North Strong and Free, has so far displayed. I was and continue to be very much impressed by and grateful for the openness and welcoming attitude towards new arrivals. From the treatment of my work permit application (once it was submitted to the right places), to the friendly welcome by immigration officials at the airport, to government officials on both provincial and federal level that I had to deal with - everybody seemed open and upbeat about new arrivals, and was kind and helpful. Although lacking first-hand experience, I'd think that this attitude would be somewhat different in Switzerland.
But it was not just the government (dial 1-800-o-canada), but bankers, mobile phone operators, landlords etc. as well who seemed to follow a "trust over doubt" attitude. I had been quite concerned about being able to sign up to essential services here without a residence history, but everybody just said "New arrival, eh? No problem. Welcome to Canada."
Finally, there is another attitude that somebody nicely described in our merry drinking round yesterday night: Canada very much sees itself as a "mosaic of cultures", where many pieces of different colors fit together to form a bigger picture. This is in striking contrast to the "melting pot" mentality famously attributed to the United States - where everyboddy seems to pursue the same American Dream. I must say, I like it up north.


Happy Canada Day!

Subscribe to Posts [Atom]