24 March 2010
747

At last, the 747 is starting regular service at Montréal's Trudeau Intl. airport. Now that may seem awfully late to some of you, given that other airports are already celebrating the arrival of scheduled service on the A380.


And it is awfully late, even if the 747 in this case does not refer to Boeing's venerable jetliner. No, starting March 29, Montréal's public transit authority will launch an express bus service with this number between downtown and the airport. If we are to believe the PR material, it is to run every 20-30 minutes, around the clock, 7 days a week. And for holders of weekly or monthly transit passes, the serivice is free. (Others, such as, say, tourists, will need to buy a $7 ticket

in exact change

on the bus - STM's attitude to customer friendliness shines through here.)

For me, this is great news as the bus will make its last stop on the way to the airport, and the first stop on the way into town, at the subway station 3 minutes from my doorstep. All I can say is: What took you so long?

Ever since moving here, I was convinced that there was some sort of conspiracy going on to make it particularly hard to reach the airport without a car. Despite being situated within spitting distance of two train lines going downtown, there is no direct rail link to the terminal building. And if you dared taking one of the few trains to the closest station, Dorval, you ended up in a concrete no-mans land with no footpath to the terminal. I did this a few times in my after-work escapades, and it was always unpredictable whether from Dorval, there would be an onward bus or if I had to cab it for the final kilometer.

As an alternative, there was a privately-run bus link from the airport to downtown, costing a considerable $16 each way and only calling at the Berri-UQAM bus terminal, quite a long ways from my place. Due to its inconvenience, this was only feasible with lots of time and no baggage at hand.

Most of the time, I would inevitably end up in a taxi, which at $40 each way adds a hefty surcharge to any trip. At least, I eventually found out that the cabs leaving

from

the airport are obliged to accept credit cards (which they keep very quiet about).

So hello there, 747!

I think this could be the beginning of a wonderful friendship...




18 March 2010
Commercial break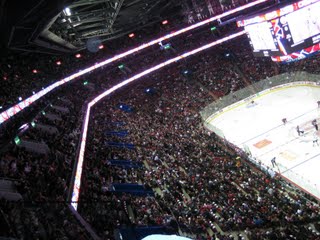 I am not a religious person. But if you live ten minutes' walk from the cathetral of the dominant local cult, you can only resist for so long. And last week, my friend and I finally heard the calling. It went like this: "Go Habs Go!" - And so we went to see the hockey game!

Both of us had been to countless Swiss league hockey games before, and we would consider ourselves a decently loyal and knowledgeable audience. But what we experienced at

le Centre Bell

was far beyond our considerable expectations. Just like for any other game

le Canadien

has ever played there, the stadium (the largest in the NHL) was sold out to its 21'273 seats, and the fans of the opposing team could not have amounted to more than a handful. Impressed and enthused, we stopped at the "Habs Zone" gift shop to obtain the obligatory devotionals (ka-ching!) before even making our way high up to the third rank, where I had been able to secure seats on the opening (and sell-out) day for the season last September.

Settling in, it dawned upon us that we were in for an evangelizing experience organized very much top-down. Whereas in Europe, fans stil take it upon themselves to create most of the game's atmosphere by waiving flags, chanting songs or displaying gigantic homemade posters (a specialty of the fanatic fans of my friend's home team), none of this happens at the Bell Center. Here, between gigantic video screens, interactive billboards and elaborately planned, brand-exclusive retail zones, a ruthless commercial machine provides carefully planned entertainment for the masses. And generates the uplift necessary to keep the $44 mio. of salary mass on the ice going. To that end, there are even artificial "commercial breaks" during a game period, so that the TV stations can quickly squeeze in a few clips, while hawkers tout $10 cans of beer at the venue.

Not that anybody seems to mind. When, to the Rolling Stones' "Sympathy for the Devil", the glorious Montreal players are introduced and intermixed with scenes from the club's illustrious past, people get exstatic. The

Habs

, as they are affectionately known, have celebrated their centennial in 2009; The club is actually older than the NHL itself and has won the Stanley Cup a record 24 times. No other team even comes close. The current roster are household names, and even the finer restaurants in town will have TVs in their dining hall, for when a game is on, nothing else matters.

With a dominance and following like this, the actual performance is secondary. Indeed, in the two matches we saw, the team's display against Tampa Bay and Edmonton was rather lackluster and certainly a far cry from the NHL's finest moments. Fortunately, the opposing forces were not much more inspired either, leading to two more wins for the Habs and enabling the current streak of six victories. As for the two new Swiss

Habs

converts, we have vowed to faithfully return. Playoffs, here we come!

Labels: Canada, leisure, sport
10 March 2010
Disney sur glace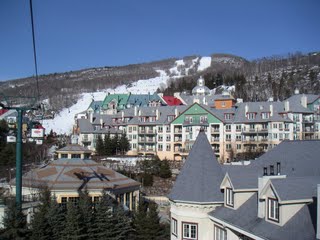 Back to you, Quebec! Not only I have returned to la belle province, one of my closest and most faithful Swiss friends has also decided to pay me a second visit in my new home, having already made the trip last summer.

The theme for this visit of his was supposed to be "winter in Québec", and when we planned it last summer I had boldly proclaimed that even in early March, the land would still be deep-frozen and miserably cold. In saying so, I trusted into the white horror stories my local acquaintances had shared with me.

Of course, it turned out rather differently, with a mild and snow-less winter (hello, Washington D.C.!) giving way to beautiful spring days with temperatures reaching 5-9C. This, along with a substantial snow canon deployment, meant perfect conditions for skiing!

My expectations, low as the Laurentides mountains, were easily surpassed by an excellently groomed network of ski runs, surprisingly varied steep passages, and a smooth access and queuing experience when compared to the alps. And even my friend, a true native of a Swiss alpine village, was very pleased by what he found – both of us were skiing overseas for the first time, and have vowed to do it again. Amazingly, the view from the top ("Le grand Manitou") at an elevation of 875m offers a gorgeous 360 degree panorama, as there are no higher peaks anywhere near.

What most took us by surprise, however, was the complete artificiality of the little pedestrian village of Tremblant at the foot of the mountain. Developed from scratch in the early 1990s by Intrawest (of Whistler fame), it is a picture-perfect little Disney sur glace, where good mood perennially rules and the town mascot exchanges high-fives with my friend. From the grande place des voyageurs (the grandest name for a parking lot I've ever heard) a gondola carries visitors up towards the village to the base of the mountain, while a small ski run across the village lets users ski all the way back down to their cars again. Lined along the village's cobble-stoned streets are a variety of bars, restaurants, boutiques, cafés and souvenir stores, all with a village monopoly on their particular niche and prices 25-50% above the outside world. As you merrily roam around on the mountain and in the little village, forgetting your worries and outside life with the sun in your face, your credit card gets a workout at least as rigorous as your skiing. Under the circumstances, it's quite an achievement for Intrawest to still face foreclosure. Ah, les joies d'hiver…

Subscribe to Posts [Atom]